25. Marmolada and the Col di Lana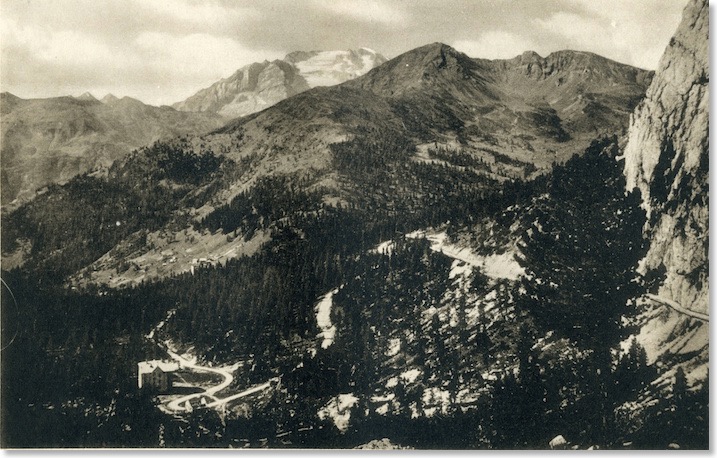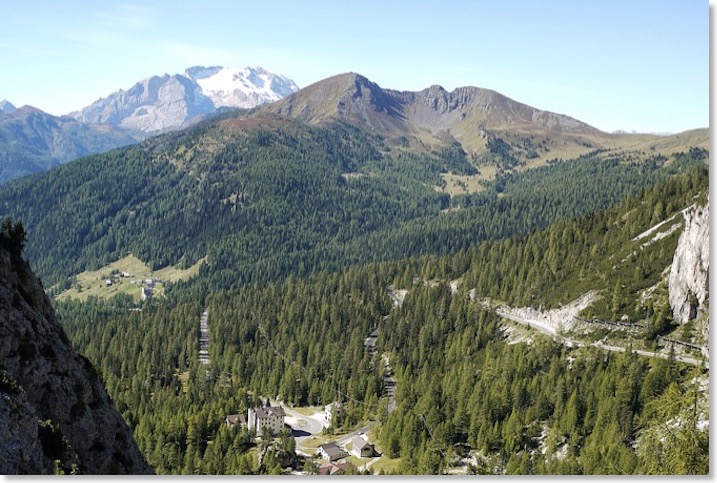 Click for map

Our journey along The Road has now reached the section I probably know best of all, and about which I have been collecting postcard views for the last 20 years or more. Without any false sentiment, it is an area seldom far from my thoughts. That said, however, in 2011 I had failed to find Zardini's viewpoint for this photograph! On a revisit in 2013, what looked to be a simple walk through trees, for another attempt to find it, turned into an hour spent fighting my way through mature forest and scrub, but I came away with a close match, reproduced above.

Zardini's photo is very similar to this Ghedina postcard that was for sale in the 1930s. Both were clearly taken from the exact same viewpoint.: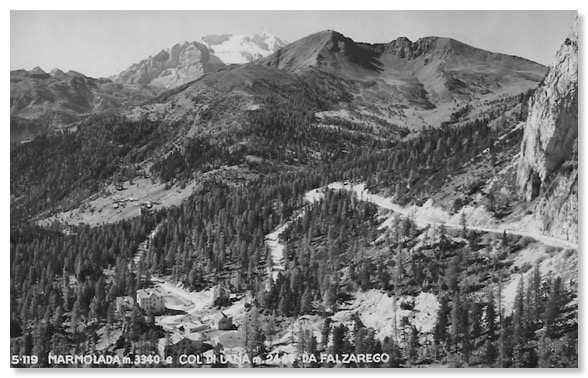 My postcard collection also includes this Zardini postcard picture from around the same time. It covers a wider view, slightly leftwards from the one above: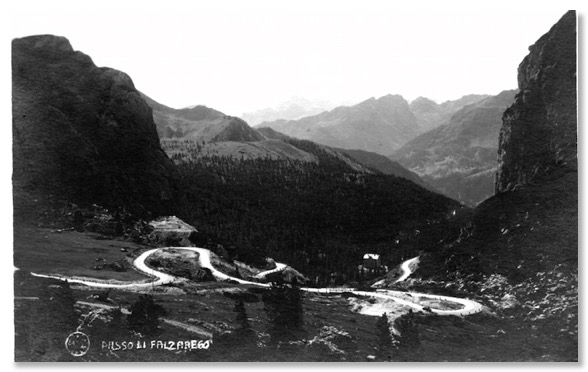 The buildings in the view are a long-established cluster at one time known as the Villagio don Alessandro Lenzi. They were covered by a 1964 Ghedina postcard, which shows the view back in the exact opposite direction to those above: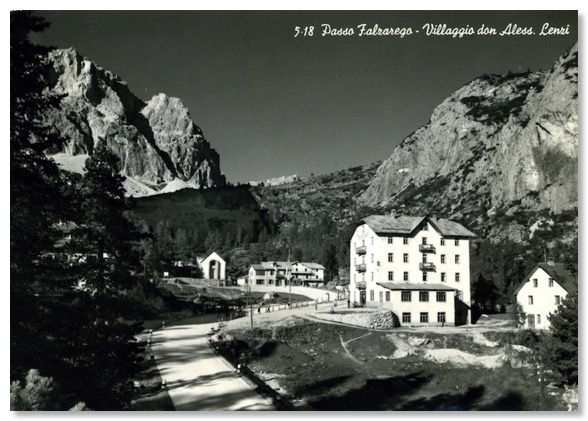 The view had hardly changed, by September 2013: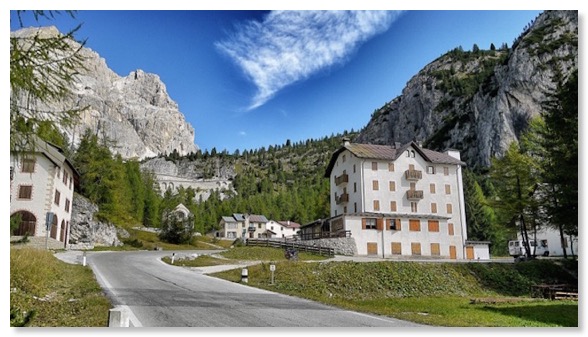 The postcard below, found while browsing another Italian flea-market, is not post-marked or dated, but looks quite early. At a guess, it shows this area in the 1920s. The view is south eastwards, across the summit of the Falzarego Pass, with the Cinque Torri (right) and the peak of the Sorapis in the background. The winding stretch of The Road shown runs from the tunnel covered under Photo 24 up to and over the top of the Falzarego Pass itself.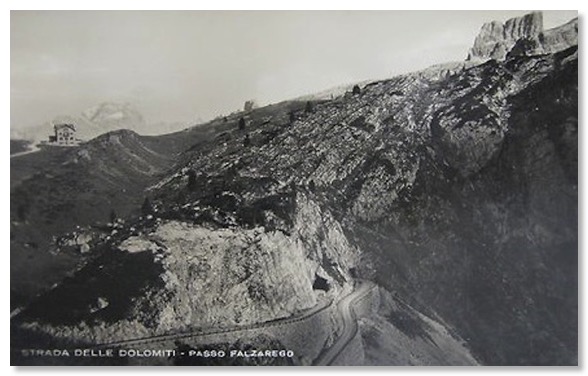 These shots are from the Sass de Stria. I have not yet ventured up there to attempt comparisons. Here are two postcards, one from the 1940s, the other dated by the sender in 1965: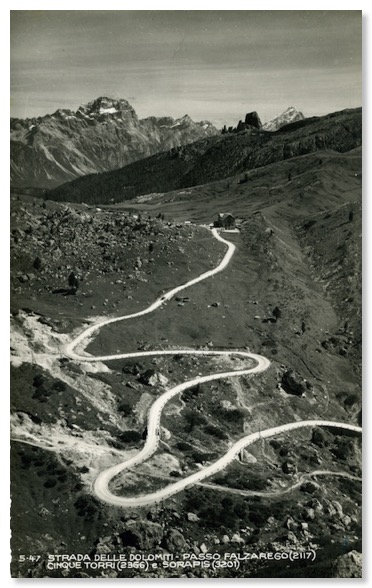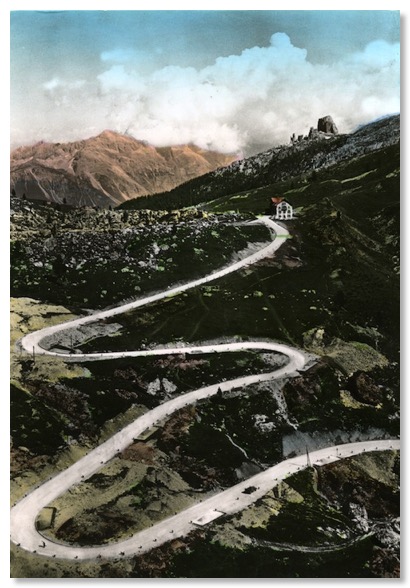 The road is still white, suggesting it's still gravel - as it was until the early 1960s, I believe. My copy of the black and white card is postmarked 1965, indicative of the lifespan these pictures had in their day, because, although it looks older, and I was tempted also to regard the hand-coloured card as the earlier one, I then noticed that the black and white shot shows no trace at all of the Valparola Pass road (seen coming in from the left of the shot, opposite the pass-top building in the other picture). I do not think this is simply due to the angle of view; the road in the coloured version is wider, and has been straightened out in some places. The Valparola Pass road runs from a major WW1 fortification (nowadays an interesting museum and visitor centre). However, to date, I have not been able to discover when that section of road was created.

Under a lens, the coloured postcard also shows men at work repairing the road from a stockpile of white stones. That certainly puts the photograph before the paving of this section in the 1960s. I also came by a black and white postcard of the same scene, surely shot at the same time? The same stockpile of stones is there. Only the clouds are slightly different: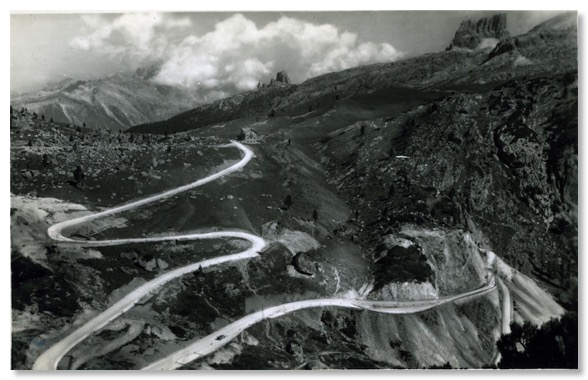 In the early 1960s, Ghedina also shot these postcards, in which it is apparent the road had by now been paved: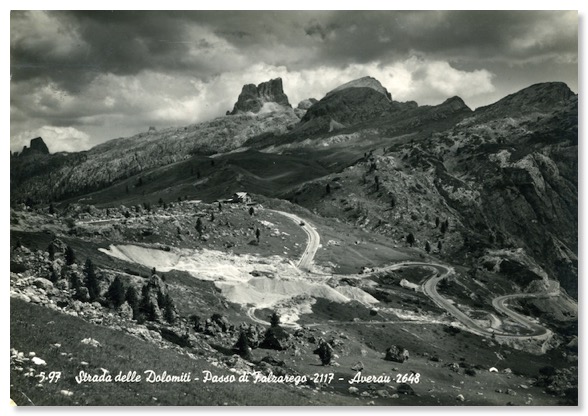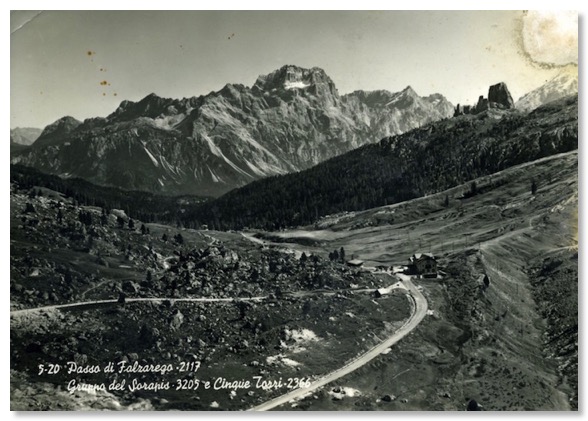 Despite Zardini's photo at the top of this page looking in the direction taken by travellers towards Bolzano, rather than Cortina, the same photograph is not used in the second version of the guide, which I acquired in January 2013. Instead, we have this completely different view, a shot from the Cinque Torri westwards towards the summit of Passo Falzarego: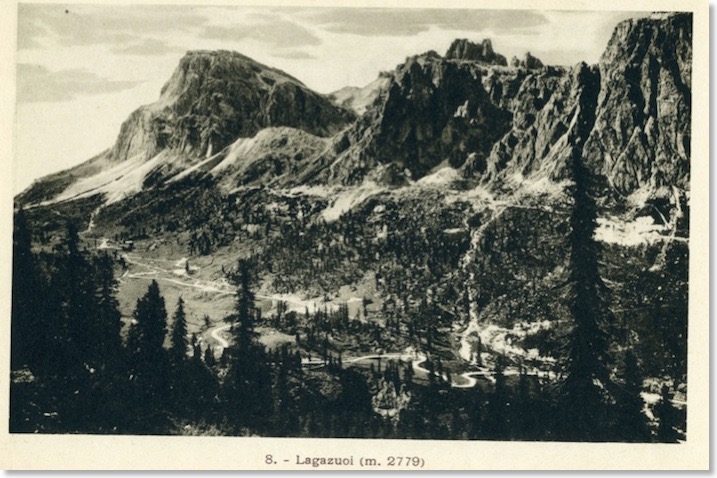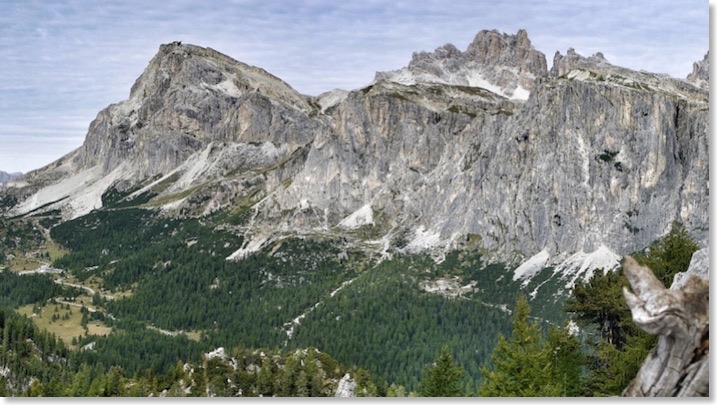 In September 2013, I was able to spend several hours exploring the very interesting open air museum beneath the Cinque Torri, which enthusiasts have developed over about ten years. It seeks to recreate an important Italian WW1 observation and artillery position. More can be found about this at www.5torri.it and at www.lagazuoi5torri.dolomiti.org

While walking in the trenches and dugouts, I found an explanatory panel which included the annotated photograph below, taken by Italian troops in 1915. From that very spot, I was able to take the second shot below, which I have reproduced here in black and white, for comparison: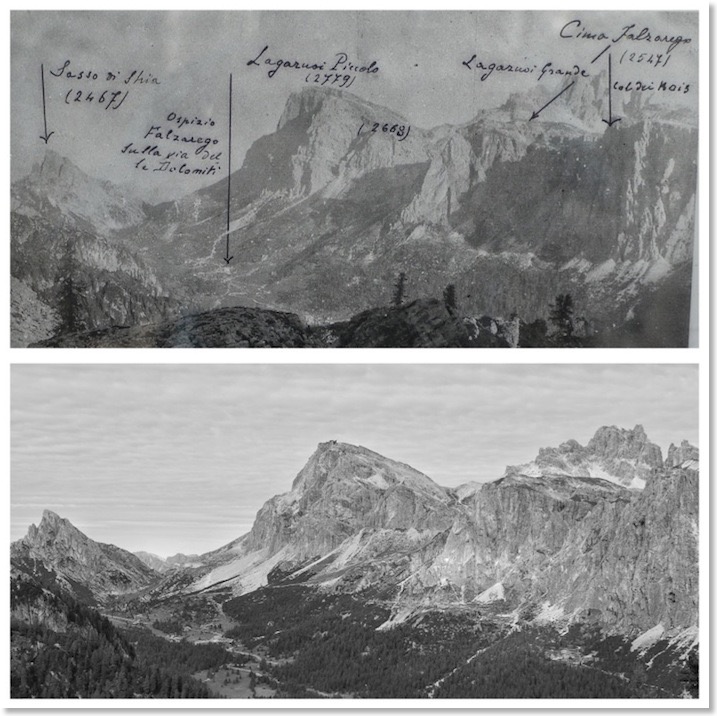 Comparing these two photos, you will see that the summit of the Piccolo Laguzuoi, in the centre, is somewhat differently shaped in the more recent view. This is because much of it's left hand side (as viewed from this point) was blown away in the WW1 fighting, by explosions in mines dug by Italian troops beneath the Austrian-held summit. Another huge mine destroyed Austrian fortification just to the left of where "(2668)" has been written. This coincides with the area of lighter rock and scree just above the centre of my own photograph. Zardini's photograph above also shows the post-WW1 shape to the summit of the Piccolo Lagazuoi, which helps to date it.

So does this postcard view by Ghedina of Cortina, which is almost an exact copy of Zardini's photo, save for the clouds!: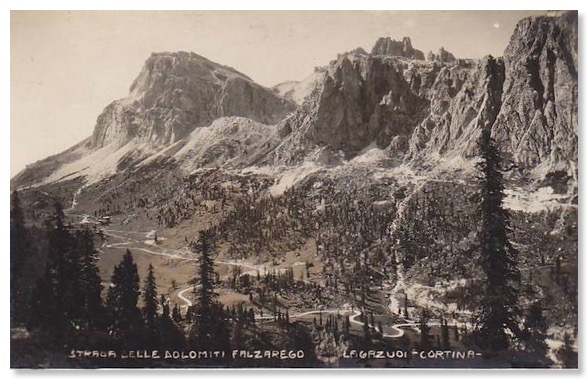 The card clearly shows the more or less horizontal "road" engineered above the tree-line to link together numerous small Italian WW1 fortifications and barrack buildings which were used as a major springboard for assaults on the Austrian fortifications on and around the mountain summits. The ruins of the Italian buildings make for a very interesting day's exploration.

Here is my favourite from amongst my own photos from my day tracing this Zardini view: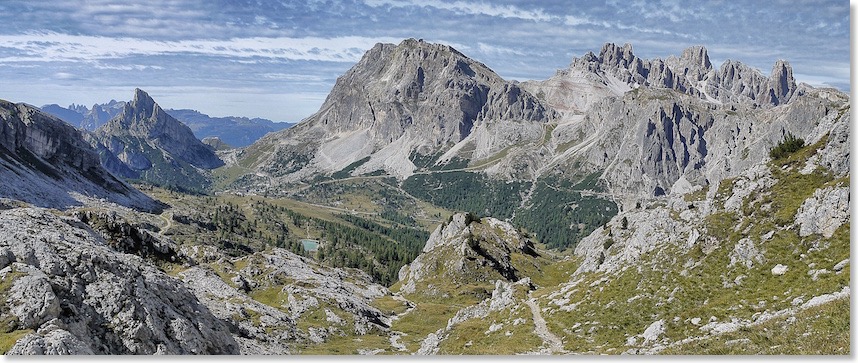 A wintry aerial view from the 1970s or 1980s looks this way too, with the line of The Great Dolomite Road very prominent. From this angle the Sasso de Stria looks very different: