1. Bolzano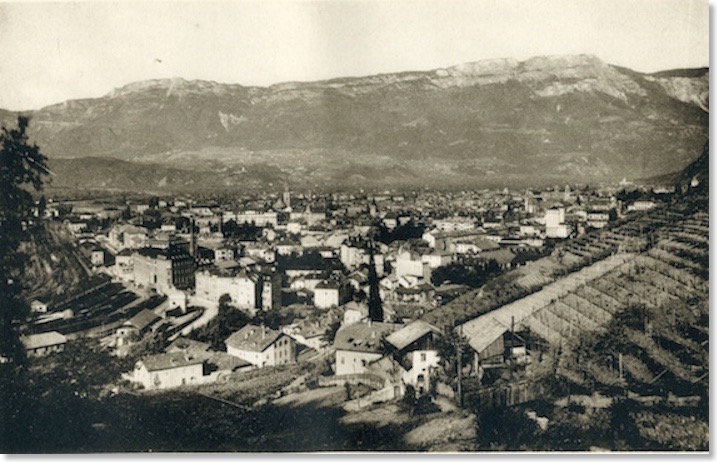 I do not know the basis for Zardini's choice of the shot above to celebrate Bolzano and, although it is hardly a great way to start this site, I have to admit failure on my part to take a comparable picture to the above. Yet, at least.

I had planned to photograph Bolzano at the end of my photographic wanderings in September 2011. I made a journey on that occasion from Cortina to Bolzano. That meant that this was the last of the photographs I needed. I had enjoyed three weeks of the most glorious weather, but on the day I headed to Bolzano, as the first port of call on my way home to the UK, a thick fog had descended on the city, and it showed no sign of lifting that day. I was short of time and therefore was forced to give up my efforts to match this photograph with a modern shot from at or near the same spot. To be honest, I didn't even get as far as identifying the spot it was taken from, so there is more work to be done on another occasion. Sad to say, I had a very similar experience in Bolzano in September 2013 and again September 2014, and ran out of time waiting for the weather to clear.

My researches did, however, unearth this photo, by another photographer, taken from a very similar spot.

By the very same token, I have nothing as yet to compare to the photograph of Bolzano which Zardini uses both for the final photo of the guide for travellers on the Road from Cortina to Bolzano, and as the cropped down cover-shot for the guide in the other direction: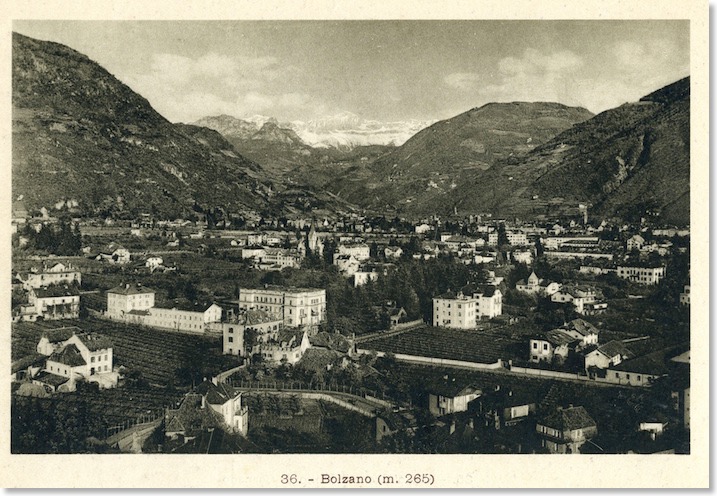 Both are completely different views of the town, which was a large place even then.

I need a further visit and clear weather, plus a good navigator around the maze of roads, motorway junctions, underpasses etc which befuddle and confuse the modern visitor to Bolzano.