13. Sassolungo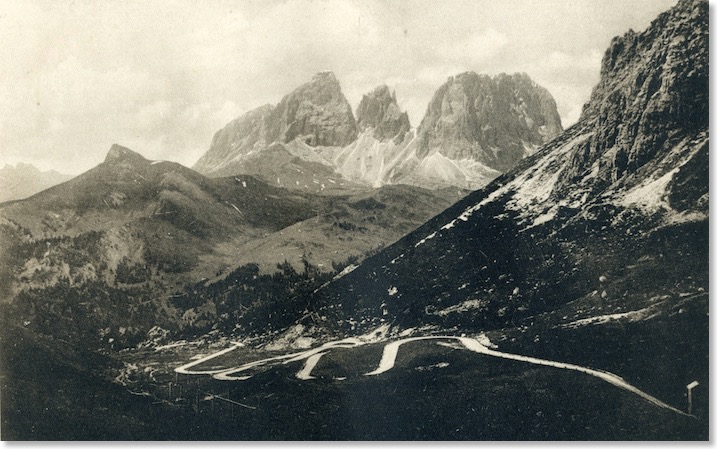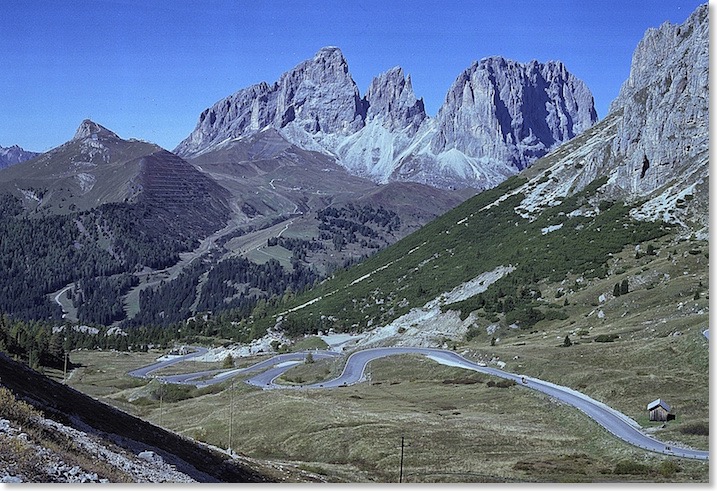 Click for map

From a position which is today not many metres from the Pordoi Pass car park, on the level stretch of the original Pordoi mule-track, I was able very nearly exactly to share the same viewpoint Zardini used for the black and white photograph. The twists and turns of the Great Dolomite Road here are immediately recognisable. A tight bend under a bridge and back over the road has been replaced by a single bend, but the view is basically the same in every respect. This was possibly the easiest of the Zardini photographs to reproduce.

The small triangular peak of the Col Rodella, to the left of the skyline, has in the last ten years become one of the favourite paragliding spots in the Dolomites. It has direct access from Campitello by cable car, favourable winds, and large, steep grass slopes from which flyers can launch. On the day I took my photograph, in 2011, I would estimate that perhaps 100 para-gliders were active in the skies immediately above the slopes.

In the guide for travellers from Cortina to Bolzano, this same shot is used, but the booklet contains a noticeably better copy. Whether it is a reprint from the same negative (or glass plate?), or simply the result of better printing in the booklet, however, I cannot tell.

This postcard, by the Ghedina company of Cortina shows a slightly wider but otherwise very nearly identical view: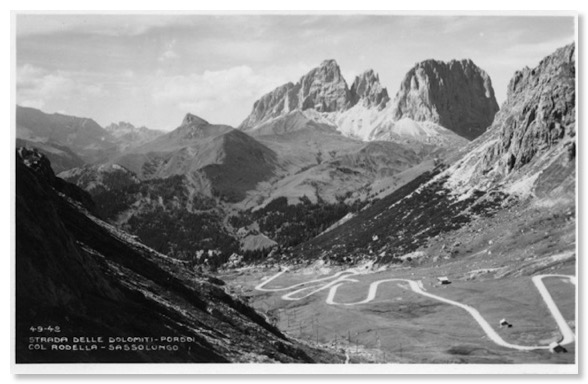 It is tempting to think that the "4-9-42" on this is a date, but it is more likely a stock or catalogue number.

Tom Barnes (see my Home page) paused near here to take this photo in the summer of 1938: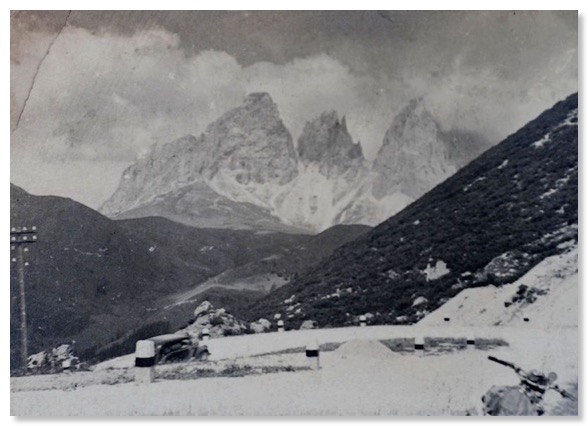 You can see what it's like to drive these same bends today, at the end of my video of the ascent of Passo Pordoi, here.