2.
The Val d' Ega or Eggental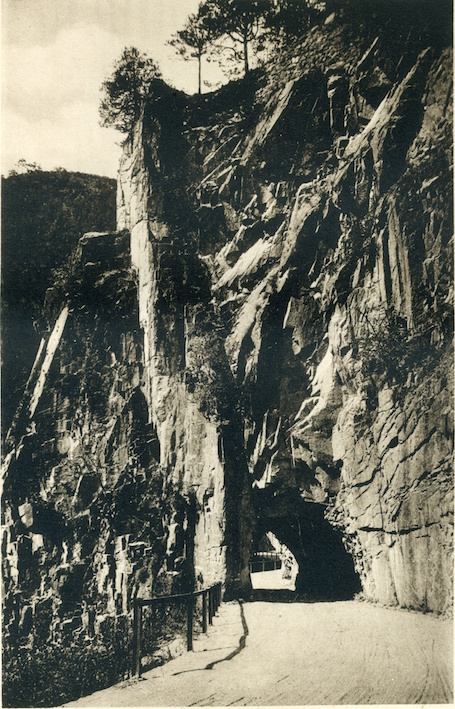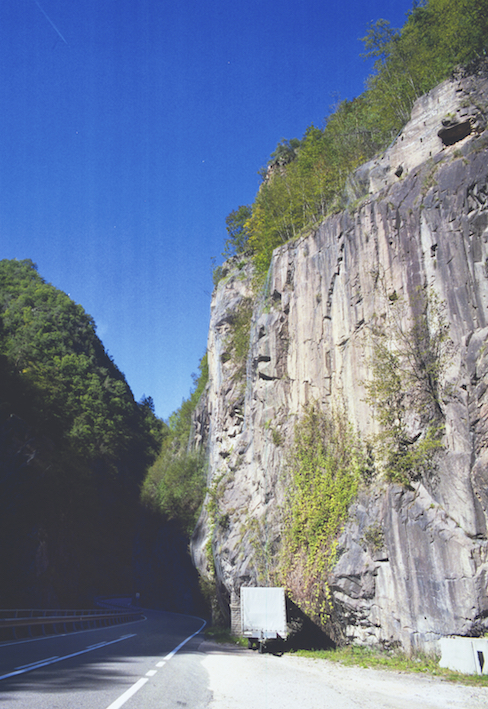 Click for map


The Eggental Gorge was, until around 2010, a well known, narrow, and at times scary, piece of road. Since 2010 the original road through its narrowest section has been almost entirely replaced by a series of road tunnels. You can see the extent of these in the first video clip
here
. In places these have obliterated sections of the old road through the purple porphry rock of the gorge, and what remains of the original Road is now only accessible on foot. Lack of parking makes these short stretches of the old road also difficult to access.

The Zardini photo is of one of several tunnels and arches that originally existed in the early kilometres of the Great Dolomite Road through the gorge. My own view (open to challenge, and revision when I get a chance to make a thorough visit of what remains after the tunnels were put through) is that this is likely to have been one that was removed at some point in the 20th century. Judging by its small size, the volume and size of truck and coach traffic would soon have made it impractical. I was unable to locate a section currently matching the photo. My own photo
might
be the same spot today, but too much rock has been removed to be sure. Pity about the parked trailer also spoiling the view on the occasion I visited in 2011.


This photo shows how very small this tunnel was in the early days: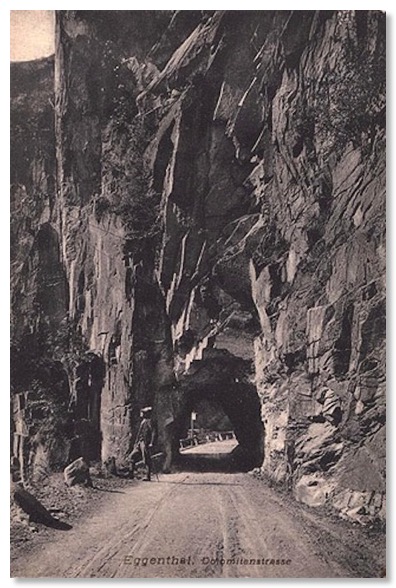 In the 1950s, Ghedina of Cortina sold this postcard of the same tunnel, now perhaps enlarged, but still very recognisable: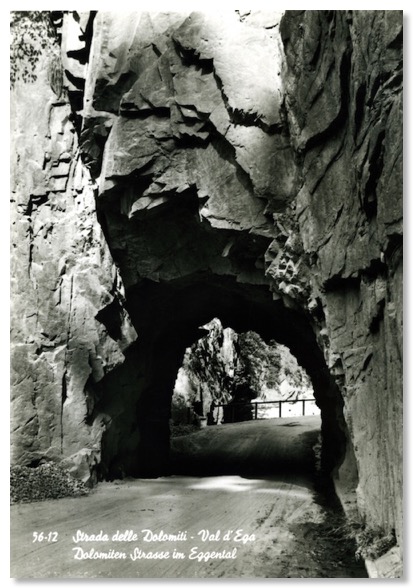 Despite attempts to enlarge tunnels like this, many pieces of the Road will progressively have become unfit for purpose as its use by motor vehicles increased. In addition, the local rock was very loose in several places, and sooner or later a major fall was likely to block the route completely. There had been many that had come close!

On my visits, I have been amazed to see that the very distinctive overhang in the early postcard below had survived the recent road works. It is glimpsed momentarily as one travels out of one of the new tunnels and into another.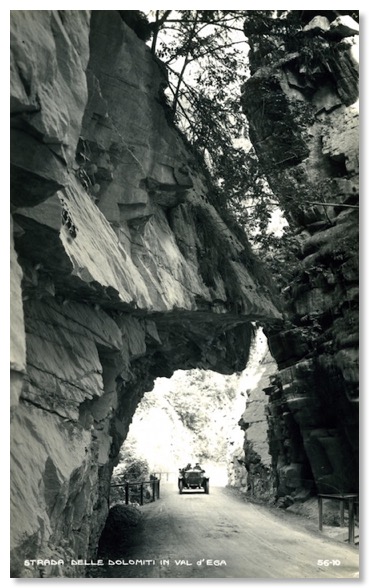 The Gorge was a "must" for postcard and souvenir photographers from the outset. This view appears to have been a favourite over many years: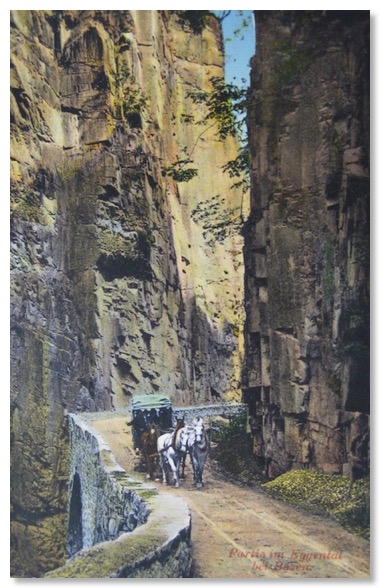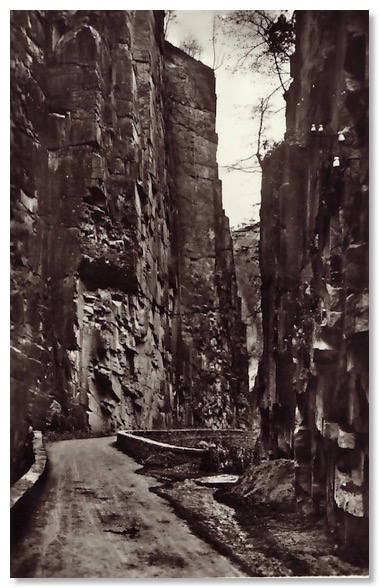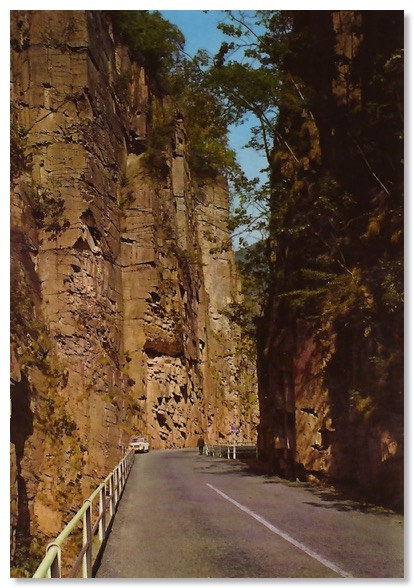 These postcard photos show what a confined space the builders of The Road were working in: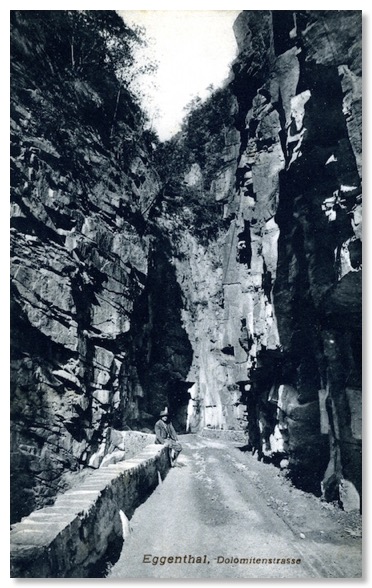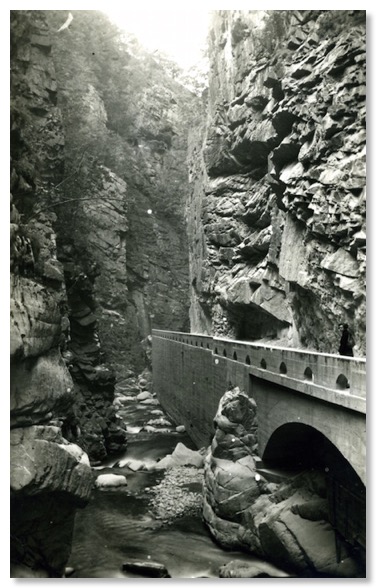 Zardini uses the "tunnel" photo in both versions of the guide to the Road, but the guide for the route from Cortina to Bolzano also includes this shot: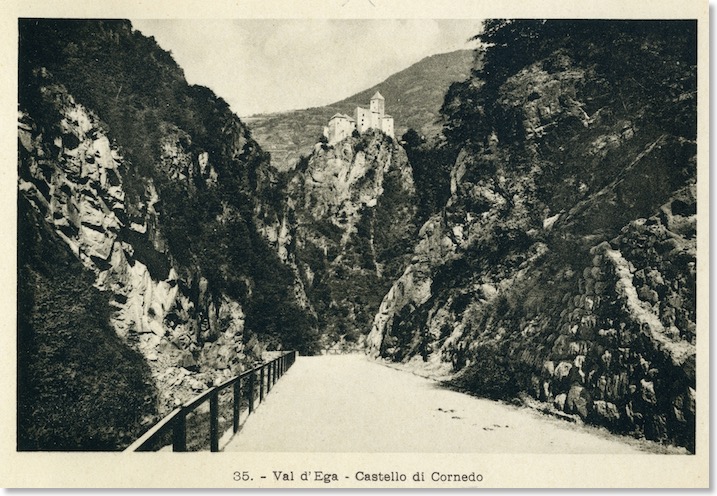 The Castello di Cornedo, or Schloss Karneid, to give it its more common local German name sits only a kilometre or so from the start/end of the Road as it emerges into the Isarco valley, a stone's throw from the outskirts of Bolzano. I did not know of this photo when I did my groundwork for some of this web site in 2011 and a re-visit will be needed to see whether any accessible part of the original Road remains that continues to offer this view. I was unable to get here for a sufficient period of time in 2013.

From somewhere not far from Zardini's chosen viewpoint, this colour postcard from the 1970s was shot: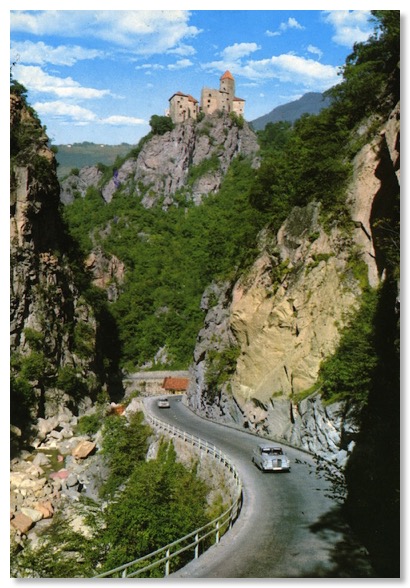 By the late 1950s or early 1960s, when I think this shot was taken, the road in this sector had been paved: