Links
There really isn't very much of any substance on the internet about The Great Dolomite Road. That was one reason for creating this web site. The centenary came and went with some of the media attention you'll see in a few of the links below, but a few years on, and still nothing recent has emerged on the book market, which surprises me. I found pieces from these sites quite useful and informative when putting this site together:


http://terrealte.blogspot.com/2009/09/la-strada-delle-dolomiti.html
http://de.wikipedia.org/wiki/Große_Dolomitenstraße
http://www.tecneum.eu/index.php?option=com_tecneum&task=object&id=465&lang=it
http://marassialp.altervista.org/foto_cartoline_d_epoca_montagna/cartoline_antiche_strada_delle_dolomiti.htm
http://www.snowalps.com/ski/cortina/sci.php?name=Foto_Album&file=displayimage&album=438&pos=1
http://it.wikipedia.org/wiki/Strada_statale_48_delle_Dolomiti
http://it.wikipedia.org/wiki/Rinaldo_Zardini
http://www.heimatsammlung.de/topo_unter/italien_ab_03/italien_04/italien_unter_tirol_cortina.htm
Amongst my favourites is this Flickr site by Diego Gaspari Bandion, which has a good collection of Dolomites postcard photos mid way through. These are truly evocative, and include many pictures of the Great Dolomite Road.
http://www.flickr.com/photos/dgbandion/3447193205/in/photostream/
Thanks


While working on this web site, I have received many words of thanks and encouragement about it, and several people have helped with local information. To all of them, I extend my gratitude. When I visit the Dolomites, I am always looking for really good sources of local information, about events, the weather, the mountains, and so on. One of the best web sites for a wide range of information and opportunities is
http://www.guidedolomiti.com
run by Enrico Maioni. Do make a visit to the site.



Books about The Great Dolomite Road


To date (this page was last updated in May 2022), I have found five books: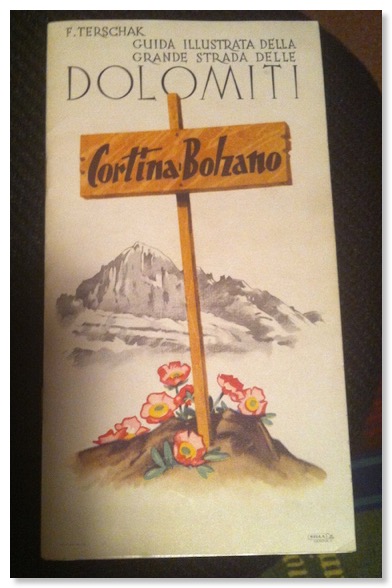 Somewhere between 1952 and 1956, Cortina based Fritz Terschak published his "Guida Illustrata Della Grande Strada Delle Dolomiti" This book only comprises 20 pages and a large fold-out map, but is unique. From one end, the book describes the key features of The Road from Cortina to Bolzano. From the other end, by inverting the book, it describes a Bolzano-Cortina journey. The fold out map too can be read either way up. The book, which carries no date, is full of black and white photographs by Ghedina of Cortina, a major 20th Century photographic publisher. The book refers to events in 1951, and talks of the 1956 Winter Olympics in Cortina in the future tense, hence my confident assertion of its publication date. I was fortunate to find my copy of this gem on eBay, for sale by an Italian bookseller.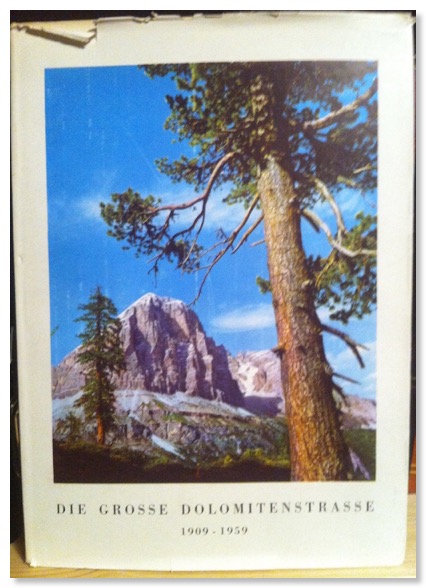 A true treasure also came my way in November 2011, in the form of the official commemorative book about the Road, published in 1959 when it achieved its half century. This, entitled "Die Grosse Dolomitenstrasse 1909 - 1959" is a hardback book of just over 100 pages. It contains many photos dating from the 1930s onwards I had not seen before, including many by the photographic firm Ghedina of Cortina. The colour photographs of pass summits like the Pordoi and Falzarego without cable car stations adorning them are of particular interest. It was also a real joy to find essays in the book about its origins, and articles by the engineers and surveyors, such as Adami and Ortolani, who were directly responsible for its creation. There is no named author. The book was a collaborative effort by several.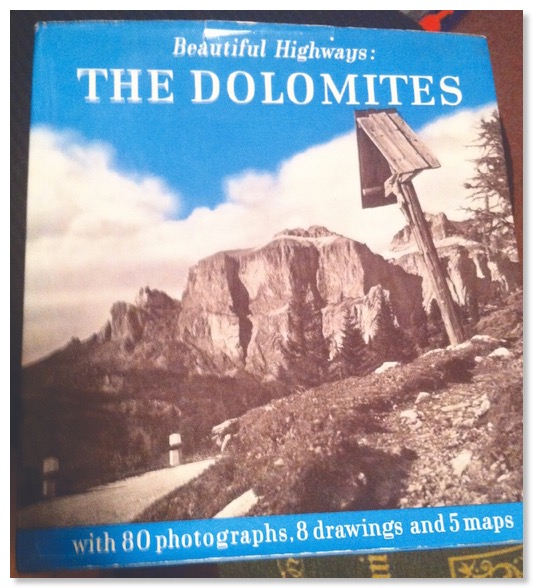 In the 1950s, Thames & Hudson published a series of books of good photographs held together with English text, as part of their "Beautiful Highways" series. There are about ten books in that series, covering many parts of Europe. The "Beautiful Highways : The Dolomites" is one of these. The core of the book covers The Great Dolomite Road. It contains some great black and white photos, mostly by Ghedina of Cortina, most probably taken in the 1930s. The book was published in 1955. I found my own copy at a very reasonable price on eBay.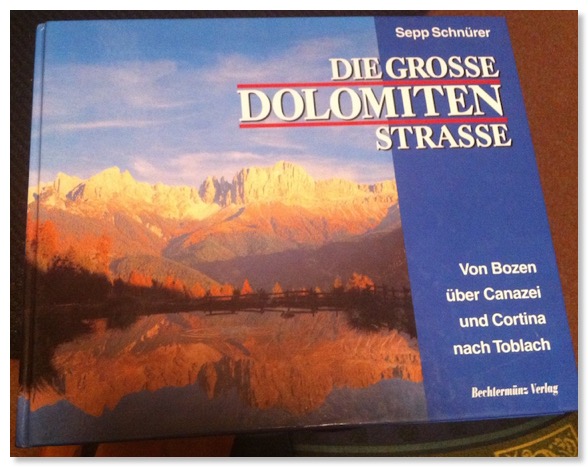 Possibly the most evocative, and I think, the most recent, of the books about The Great Dolomite Road is a wonderful, colourful, large format work by the popular mountain photographer and writer Sepp Schnurer, entitled "Die Grosse Dolomiten Strasse". It was published in 1996 by Bechtermunz Verlag of Augsburg and is ISBN 3-86047-301-8 This is my book of choice for long winter evenings. It captures the look and feel of the Road beautifully. Mine also came from a simple search on eBay, but I have seen copies still on sale in booksellers in Bolzano and Cortina.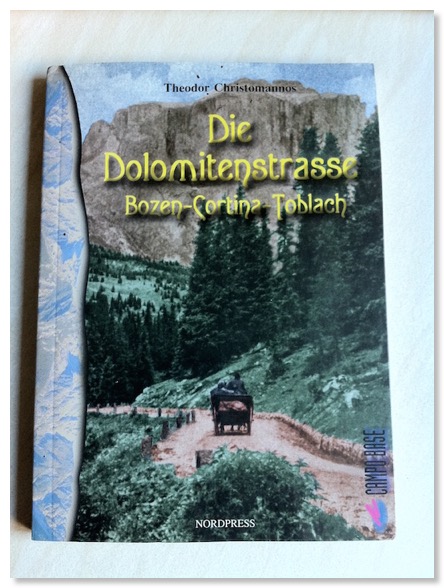 My internet browsing in early 2013 then came up with this gem: a reprint of the 1909 guide to the Road by Theodor Christomannos, who is regarded as one of those directly responsible for lobbying for this important link to be created. The reprint was published in 1998 (ISBN 88-85382-37-1) by Nordpress. It has an opening chapter giving some history of Christomannos, who died young, in 1911, and never lived to see the popularity of the Road. The rest of the book is filled with beautiful black and white photos of the Dolomites from the beginning of the twentieth century. Many of these show areas through which the Road now passes. This is a valuable pictorial and social history of the area.